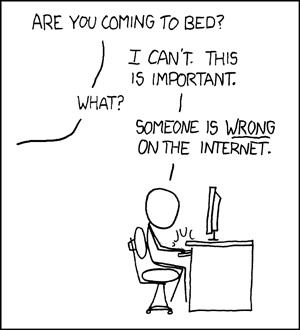 Image with permission of: xkcd.com
We live in an unprecedented era in history of humans. We are transitioning from a "couch potato" to a "chair potato". The Internet is replacing TV fast. And of course The Internet kills TV in almost every aspect of human endeavour (like learning, interactivity, business etc) but if misused as a tool it can be potentially limiting one's life. It is really simple. You have so many hours in your life. How many hours of your life do you want to spend in front of a computer screen?
Act: Become acutely aware of how you use the Internet. Use the Internet in a targeted and specific way related to your life goals. That being said you have to have life goals in the first place. Stick with goalsblogger.com to live more focused life and achieve your BIG GOALS fast.